Welcome back to the graveyard. Haven't had enough, have we? Then get comfortable and feast upon even more tales of the macabre in this block of tales…
This collection of short horror films are curated from around the world, and include tales of witches, demonic possessions, teenage slashers, and more.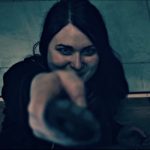 Watch as often as you like, either from our webpage or "cast it" to your home media device (Roku, AppleTV, ChromeCast, or FireStick). 
Films Available to view Oct. 9th - Nov. 1st
The video player above will switch to the full block of films for Logged-In users starting on October 9th.
Directed by Matthew Roseman (USA)
Directed by Dinh Thai (USA)
Directed by Daniele Zinelli (USA)
Directed by Daniele Zinelli (Italy)
Directed by Heather Halstead (USA)
The Greatest Horror Film Ever Made
Directed by Brandon Jordan (USA)
"Abscessed" (USA, 2min)
"The Axe and the Iron" (USA, 11min)
"BLUR" (USA, 15min)
"Create Your Killer" (Sweden, 8min)
"Desert Quarantine" (USA, 14min)
"The Devil's Harp" (USA, 4min)
"Good Man" (Italy, 10min)
"The Greatest Horror Film Ever Made" (USA, 13min)
"La Chancla" (USA, 4min)
"Make a Wish" (USA, 8min)
"Momma, Don't Go" (USA, 5min)
"Portrait of a Lady" (USA, 5min)
"Snake Eyes" (USA, 8min)