2007 Killer Valley Horror Film Festival - Medford, OR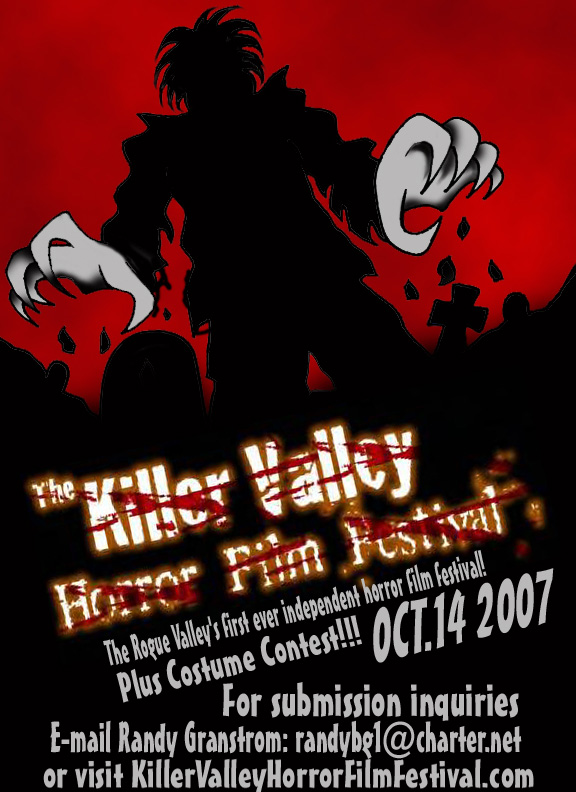 The Killer Valley Horror Film Festival was hosted Sunday, Bloody Sunday on October 14, 2007 at Vibes Main 1 (now the Kimmel Performance Center) in Medford.
Ten Films were screened to a select audience. Levi Anderson hosted the event, introducing the directors of each film to discuss their productions before each screening.
Randy Granstrom of Killer Valley Films presented awards to finish out the evening.
2007 Horror Film Awards
Best Special Effects: Morbid Creations for work on Dead Girls *Parental Discretion
Best Actress: MiLissa in Play With Me
Best Actor: Levi Anderson in Gogbar and Remote Control Optional
Best Director: Alden Morgan for NealHam's Remote Control Optional
Best Film: We're Here to Wreck Everything music video featuring Virus Nine
Most Disturbing Film Award
went to Noxious Trinity's Play With Me
The For Love Not Money Award
(presented by Ray Robison) went to Levi Anderson
Also screening were "The Button Pusher", Zombies and Stuff, Rise, Trauma, and Dead Girls. 
Selected sponsors included Magic Man Costume Shop in Medford, Franklin Upholstery, SidFilmz, Killer Valley Films, Bison Films, and Noxious Trinity Films.