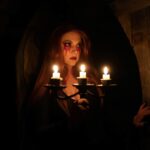 at Horror Obsessive (Oct. 18, 2021)
Best SFX Nominees:
"Golem"
"The Witch's Bargain"
"Crockpot"
"The Tell Tale Heart"
Best SFX Winner:
"The Witch's Bargain" – Directed by Corey J. Trahan
Best Actor Nominees"
Luis Miguel Jara – "Smiles"
Sean Abplanalp – "Zombies Like to Watch"
Sonny Grimsley – "The Tell Tale Heart"
Andrew Creme – "Night Terror"
Winner, Best Actor:
Sonny Gimsley – "The Tell Tale Heart"
Best Actress Nominees:
Lily Gibson – "Creature"
Lyrica Okano – "Koreatown Ghost Story"
Ximena Vera – "You Will Never Be Back"
Ilana Labourene – "When the House Goes Black"
Winner, Best Actress:
Lyrica Okano – "Koreatown Ghost Story"
Best Film Nominees:
"Crockpot"
"The Witch's Bargain"
"The Tell Tale Heart"
"Koreatown Ghost Story"
"Home Before Midnight"
Winner, Best Film:
"The Tell Tale Heart" – Directed by McClain Lindquist
From Minsun Park & Teddy Tenenbaum (US)
Directed by McClain Lindquist (US)
Directed by Piero Cannata  (Italy)
FEATURETTES
The Witch's Bargain (US)
The Tell-Tale Heart (US)
When the House Goes Black (US)
SHORT FILMS
Koreatown Ghost Story (US)
Smiles (Spain)
Golem (Australia)
Crock Pot (US)
Zombies Like to Watch (US)
The Nest (US)
Dragonfly (US)
Timber (US)
Transfigure (US)
Murder House (US)
Shoot 'em in the Head (US)
Don't Run (US)
Home Before Midnight (US)
Script (Italy)
Lisa (US)
You Will Never Be Back (Spain)
Your Turn (US)
Night Terror (US)
Creature (US)
Relentless (Australia)
Occupier (US)
The Killdren Are Coming (US)
Born to be Damned III (France)
Keep Closed at All Times (US)
Familiar (UK)
Stalag III-C (Belarus)
Pizzaman (US)
Lake Forest Road (US)
Zombie Walk(US)
The Nick (Australia)
Nebula (Spain)
Midnight (US)
Knock Knock (US)
What if Feels Like For a Girl (US)
Rules of the Dead (US)
The Dentist (US)
This is the kind of small, homegrown, labor of love festival I go out of my way to attend. Intimate and bloody and silly and beer-soaked, it's a fun and ridiculous evening shared with like-minded horror nerds, and the films themselves were impressive. Thanks to Ross and Randy for having me, and you can bet I'll be back!
Nice experience! Great Film Festival! 😀
Great Festival. Ross and his team work hard to make a quality fest!
An excellent festival, highly recommended.
These folks know how to make a festival fun.