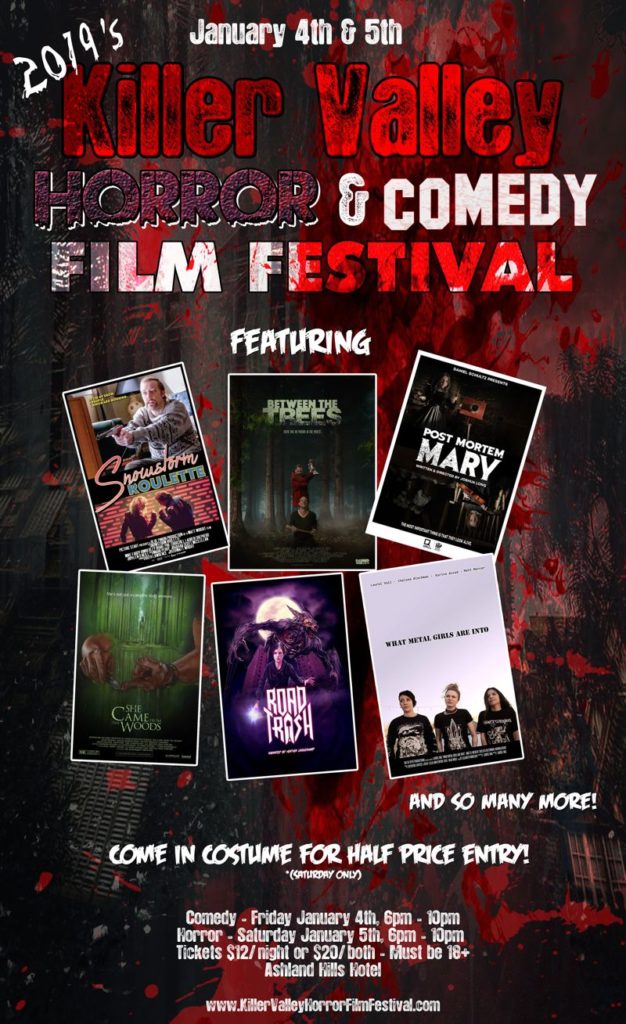 January 4-5, 2019
This was the year we launched our Comedy Film Festival - a 2nd night of independent films, showcasing the campy & humorous entries from our previous horror festivals.

Originally slated to be in the Fall of 2018, we had to re-secure a new venue at the last minute, so our "2018" festival ran in January of 2019 -- bringing the new year in with all the blood & guts we could!
2018-19 Awards
Best Film (HORROR) - She Came from the Woods
Best Film (COMEDY) - No Good Burgler
Best Actor- Greg James (Between the Trees)
Best Actress - Cassie Bell (Disturbance )
Best Director - Brad Douglas (Between the Trees)
Best Special FX - SYNAPSE - created by Gearmark Pictures

"She Came from the Woods" is a campfire story come to life for a group of counselors on the last day of the summer of 1987 at Camp Briarbrook. Directed by: Erik Bloomquist and Carson Bloomquist. 
"No Good Burglar" is a 1-shot comedy of errors from Navaar Productions. Written, Directed, & Produced by: Daniel Eachus, Tyson Pestner, and Diego Parada. 
BETWEEN THE TREES: Best Actor (Greg James) & Best Director (Brad Douglas)
DISTURBANCE: Best Actress (Cassie Bell)